Zoom On Ghasel Maltese Honey Face Moisturiser. Is it worth the hype?
The mission of the Maltese brand Ghasel is to create premium skin care products. For this reason, it has launched a unique day and night moisturizer – Maltese Honey Face Moisturiser. This special beauty product provides the necessary 24-hour hydration.
Ghasel moisturiser has been refined to deliver maximum skin care benefits. The Maltese honey-based product has caused quite a stir in the cosmetic market. This powerful moisturizing and regenerative product with anti-aging properties is the most sought-after nourishing face cream.
We know how to deliver valuable hydration
Ghasel provides quick regeneration to tired, dull and lackluster skin. It's a powerful energy boost for all skin types and it's perfect for both morning and evening skin care routine. Used regularly, it promotes skin defense, exposed every day to harmful environmental factors like free radicals, extreme temperatures or UV rays.
Maltese honey combined with vitamins, minerals, oils and plant extracts delivers a wave of hydration. It strengthens the condition and structure of the skin, improving its appearance in a flash. The delicate honey scent provides the ultimate comfort of use.
Ghasel – free of preservatives, parabens, GMOs and silicones.
Wyświetl ten post na Instagramie
This product is free of harmful ingredients. Instead, it contains:
Maltese honey: a unique substance with strong moisturizing properties. It smooths the skin and provides a youthful and radiant appearance. Its antibacterial properties work great for acne treatment. Recommended for dry, normal, problematic or allergy-prone skin. It improves skin suppleness and elasticity. It is a remedy for wrinkles and fine lines.
Shea butter: prevents water loss, providing a feeling of continuous hydration and nourishment. Ideal for oily, normal, acne-prone or combination skin. It has soothing properties and relieves irritation and skin problems. It stimulates the production of collagen and elastin, responsible for the youthful appearance of the skin. It supports skin regenerative process and smooths wrinkles.
Caffeine: has a stimulating effect on tired skin. It strengthens blood vessels and promotes blood circulation, delivering power and energy to the skin. It reduces puffiness and dark circles, removing signs of fatigue. It provides a radiant and fresh look.
Castor oil: a cosmetic ingredient known for centuries. It antibacterial and anti-inflammatory properties are excellent for skin problems. It's important for the skin regeneration process.
Vitamin B6: a powerful antioxidant with anti-inflammatory and anti-aging properties.
Vitamin E: tocopherol neutralizes the harmful effects of free radicals. It prevents skin lipid degradation, promotes cell metabolism and improves skin suppleness and elasticity. It unifies skin tone, combats discolorations and strengthens blood vessel walls.
Green tea extract: indispensable for polluted, dry, acne-prone or oily skin. It has toning and regenerative properties, reduces inflammation and brightens the skin, boosting its healthy tone.
Sage extract: minimizes pores and inflammation. Regulates the sebaceous glands, preventing unsightly shiny skin. Its cleansing and toning properties prevent the formation of blackheads and blemishes.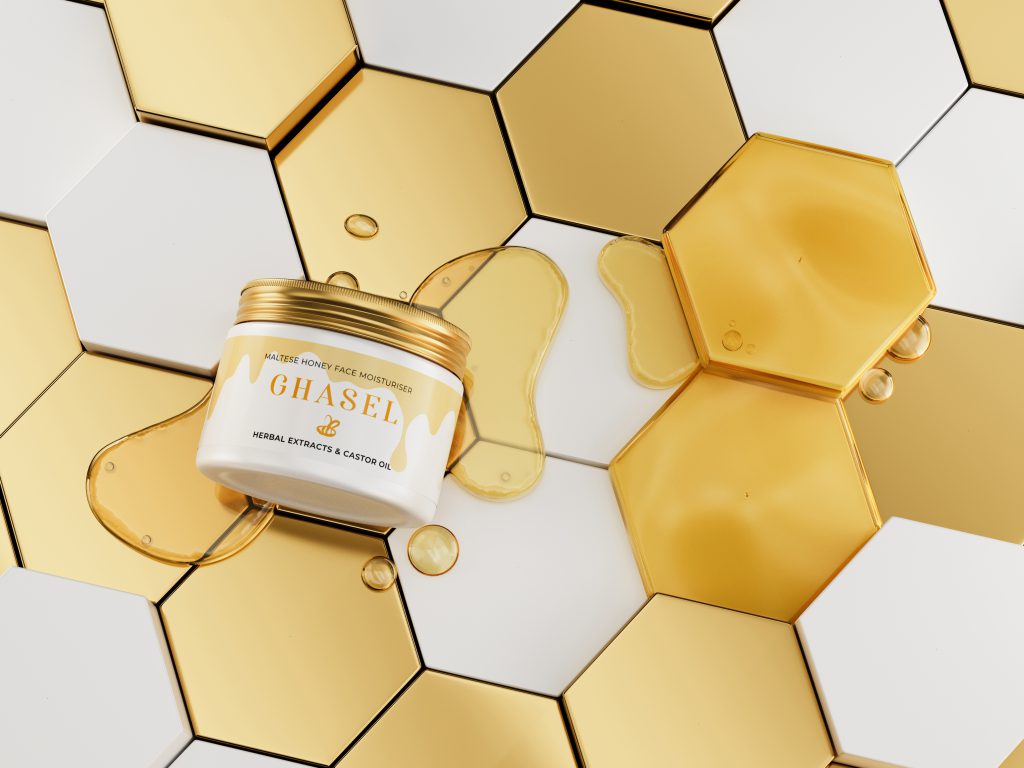 Learn more about the product: www.ghasel.mt.
---