GHASEL is a Maltese brand that specializes in luxury cosmetics in harmony with nature. Its unique range of fragrances and comprehensive care attract crowds of consumers around the world. A powerful dose of hydration and subtle honey scented notes from Maltese Honey Body Cream is a soothing experience for body and soul.
GHASEL products strongly moisturize and nourish the skin, have a biostimulating effect, beautify and improve the condition, as well as smooth out wrinkles and fight imperfections. Maltese Honey Body Cream is dedicated for all skin types of all ages. It's recommended for day and night care to achieve long-term results.
Meet the unique cosmetic GHASEL
Malta is famous for the world's sweetest Maltese honey, which fills the skin with a 24-hour feeling of hydration and soothing. GHASEL Maltese Honey Body Cream means long-lasting relaxation and at the same time anti-aging properties that prevent premature aging of the body.
All thanks to specially selected ingredients that protect the skin from environmental factors such as smog, frost, UV radiation, toxins, dust, free radicals.
Maltese honey – protects the body from moisture loss. It has strong powerful and moisturizing properties, ideal for skin that struggles with dehydration and oxidative stress. It's a unique ingredient that helps heal acne-prone, irritated and allergic skin. It also soothes, enhances elasticity and improves firmness.
Shea butter – one of the world's most coveted cosmetic ingredients. It's able to regenerate and nourish even extremely dry skin. It has a soothing and regenerating effect, prevents the formation of blackheads and deeply moisturizes all layers of the skin.
Glycerin – strengthens the hydrolipidic barrier of the skin, preventing lipid degradation. It has moisturizing properties and provides a strong dose of soothing. Gives subtlety to the skin, smooths it and leaves it pleasant to the touch. It makes the body elastic, firm, free of stretch marks and cellulite.
Plant extracts – soothe and regenerate the skin. Ideal in the care of mature skin, acne, vascular, dry and lackluster skin. They prevent inflammation, accelerate regeneration of the body, rehydrate and improve skin tone, adding a youthful glow.
Marshmallow extract – has an emollient effect and accelerates wound healing. It has antibacterial and anti-inflammatory properties that help heal irritated skin, it also reduces the appearance of signs of aging, preventing further formation of them. What's more, it regulates the sebaceous glands, so the body stops looking shiny, but becomes moisturized and pleasant to the touch.
Vitamin B12 – makes the skin have an even, beautiful color. It soothes before and after sunbathing, giving a beautiful golden tan. A common skin care ingredient for impure, acne-prone, flabby skin.
Vitamin E – the vitamin of youth, which smooths out wrinkles and prevents the formation of new ones. An antioxidant that effectively combats free radicals and oxidative stress, leaving the body smooth to the touch. It makes the skin tone even, reduces hyperpigmentation, imperfections and strengthens the skin's protection against UVA/UVB rays. Stimulates the production of collagen and elastin, which are responsible for a youthful appearance.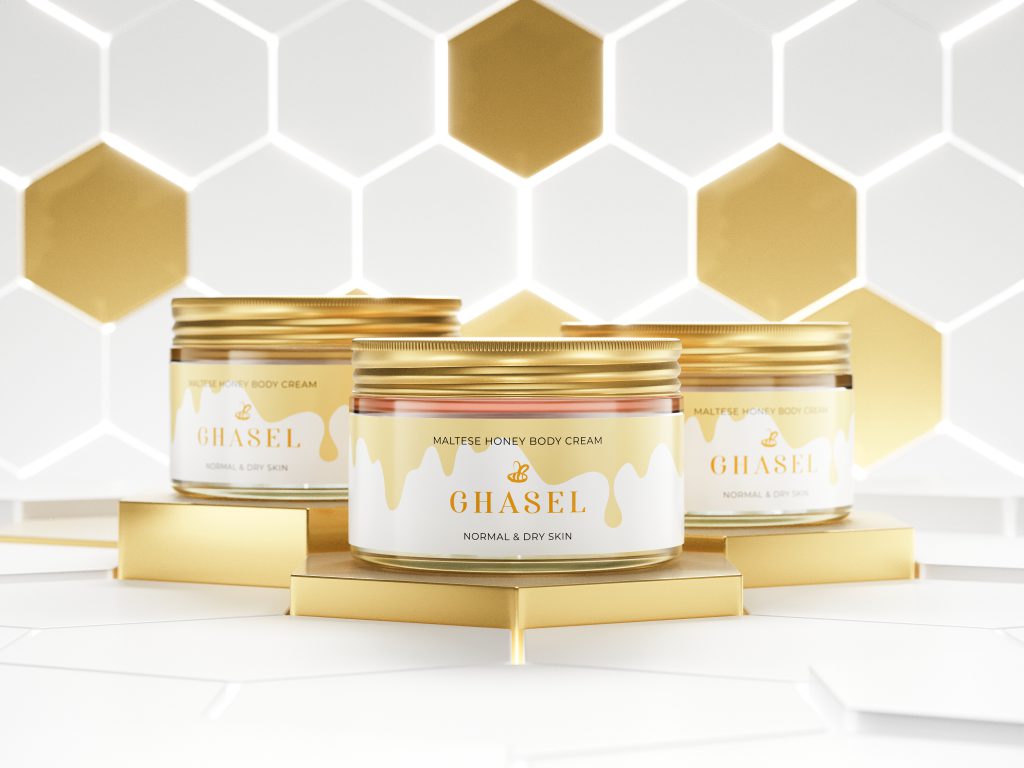 For more information about Ghasel products, go to the website ghasel.mt