You should protect your hair even when you merely blow-dry it – the heat deprives your strands of water, causing dryness. Each next use of a dryer causes more damage. Take action soon enough! Get a suitable thermal protection product. We believe that Nanoil Heat Protectant Spray works best! Read more about this unusual cosmetic and blow-dry your tresses worry-free!
How does hair get damaged?
Hair is made from keratin and, contrary to appearances, it's resistant to damage. Unfortunately, the resistance to external factors has its limits. If you daily blow-dry, straighten or curl your strands or spend lots of time in the sun, then they're exposed to the harmful heat and sunrays. Many outside factors leave the hair extremely dry and that's why we need to protect it. A good heat protectant isn't merely a styling primer – it also secures the hair all day to prevent damage from the sun or high temperatures. The Nanoil Heat Protectant Spray does even more!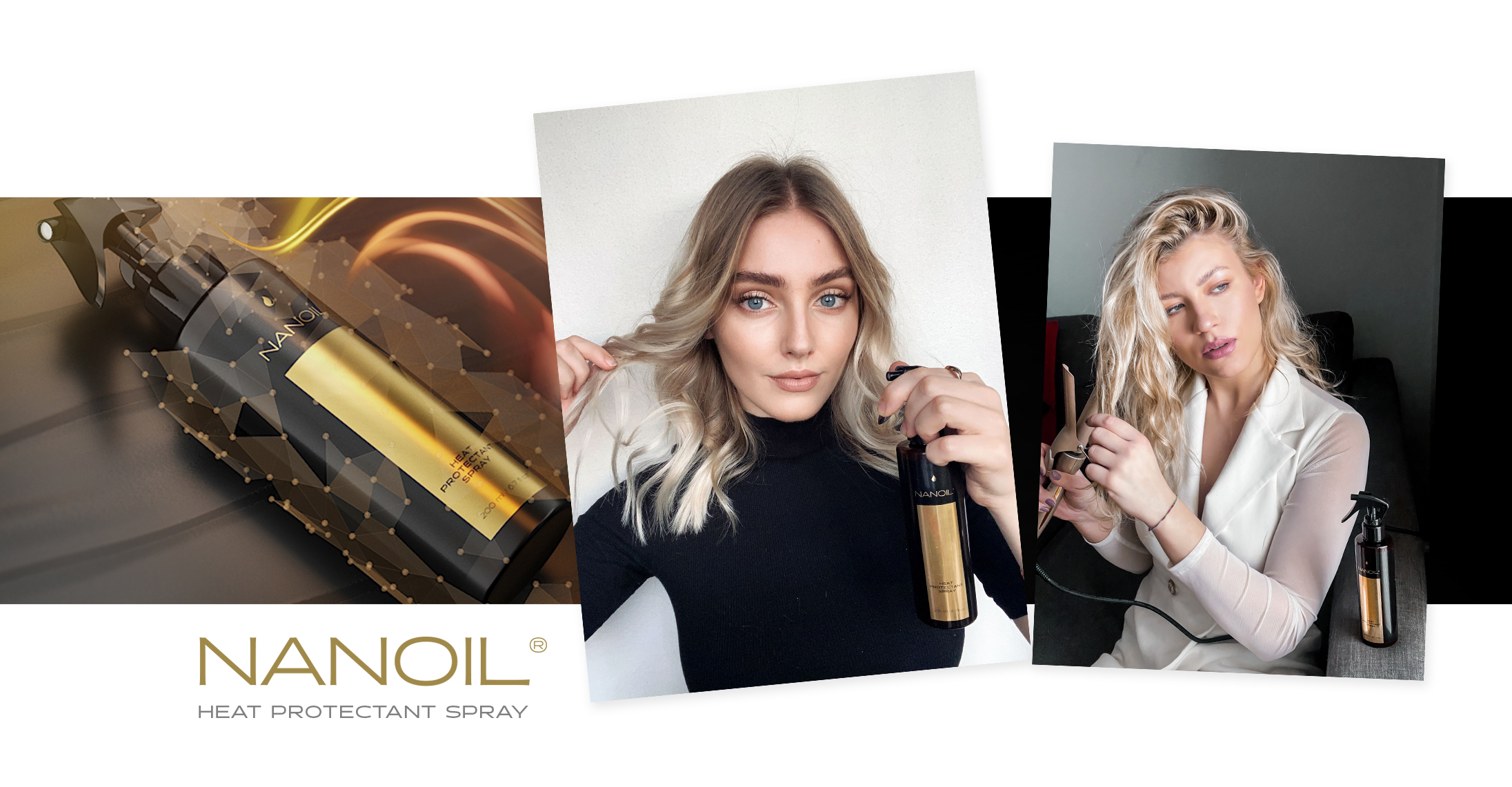 What does the Nanoil Heat Protectant Spray do?
Spray it on your strands before drying, straightening, curling or using other hot tool. The Nanoil Heat Protectant forms a microscopic layer which doesn't allow the loss of water inside of hair, maintaining optimal hydration. On top of that, this spray secures from the sunlight, harmful UV rays, but also dryness from central heating or air-conditioning.
Benefits of the Nanoil Heat Protectant Spray
Apart from protecting, the Nanoil Heat Protectant Spray acts as an amazing primer – it delivers softness, makes the hair manageable, and keeps it flawless for many hours. This product is rich in silk proteins that add smoothness, nourish, boost shine, and leave the hair nicer to the touch. You can boast a lovely hairdo all day long. All you need to do is spray the Nanoil heat protectant on damp hair after washing or dry hair if you didn't wash it. The spray always guards it regardless of the weather and temperatures (even 430℉/220℃ won't pose any threat to your tresses!). Nanoil guarantees gorgeous, smooth and shiny hair no matter the conditions.
Reviews of the Nanoil Heat Protectant Spray
Do you want to know how it works? Read some reviews that girls post online. They love how the spray works, how long it lasts, and even how much it costs! A beautiful scent that stays on is another asset. Get more info on www.nanoil.co.uk. We think Nanoil deserves the highest ratings it gets in product rankings!