Time for rejuvenation? You should think of retinol – the best friend of youthful-looking and smooth skin. It's defined as one of the most powerful de-ageing substances that is able to deliver clear and measurable effects within just a couple of weeks. The longer you treat your skin with retinol, the better the results become. Skin is simply enamored with vitamin A.
Sadly, despite being so beneficial to skin, vitamin A is infamous for causing discolorations and hyperpigmentation. Today, we will play the role of retinol's advocate and claim that this is an old, false and inaccurate information that – indeed – might have been true in some cases, but a decade ago. Simply, choose the best retinol face serum for you and enjoy youthful-looking skin with no traces of aging.
What is retinol in particular?
Retinol is a vitamin A derivative whose rejuvenating effect on skin was thoroughly examined and scientifically proven. The benefits of retinol in skincare were discovered and described in the 1980s, and till today the scientists haven't found any other similar and equally effective substance as retinol.
What can retinol really do?
Retinol is a basic substance used in fighting for young and glowing skin. It can be said that retinol did PhD on wrinkles and fine lines, and received a specialty training on removing hyperpigmentation and sunspots. However, it can do more than that. It was also proven that vitamin A is able to cure acne, and therefore today we're going to debunk the myth about retinol being suitable for mature skin only.
You can't talk about an effective anti-ageing treatment without mentioning retinol. Thus, if you feel that your skin requires to be treated with a substance that would improve its condition, if you spotted first signs of ageing on the face, or if you're combating with acne (no matter if this is teen acne and adult acne), then you should implement vitamin A face serum to your skincare routine. Surefire success!
Retinol equals:
no more acne
zero pigmentation spots
diminished wrinkles
smooth and flawless skin
How to use retinol?
Are you still uncertain whether the rumor about retinol being hazardous to skin is true? No worries – retinol works impeccably, provided that it's used correctly. The experts suggest applying vitamin A at bedtime, when the skin isn't exposed to the harmful sun rays. In the morning, you surely put on some SPF because this is the essential element of your daytime regimen. Retinol followed with UV filters is fully safe and maximally efficacious.
Retinol in Skincare Products: How to choose the best one?
You can find vitamin A in skincare products by scanning INCI for one of the following:
Vit A, retinol, Akseroftol Retinolum, Vitamin A, Dry Formed Vitamin A, All-Trans-Retinol, All-Trans-Vitamin A Alcohol, Alphalin, Hydrogenated Retinol
The best choice that you can make today is reaching for a good retinol face serum. It penetrates skin deeper than a regular face cream is able to, which means that a retinol face serum can be even 80% more effective!
What does it mean that a retinol face serum is good? Firstly, such skincare product encourages dead epidermal cells to be replaced with new cells faster than this process would normally occur. This is beneficial not only for mature skin but also for acne-prone skin. Secondly, retinol enters skin pores and prevents them from being clogged, which reduces the risk of congestion, inflammation and acne. Thirdly, owing to its exfoliating effect, retinol face serum helps highlight pigmentation, hormonal and sun spots. Therefore, a conviction that retinol causes discoloration in skin is a little bit mischievous, isn't it?
Choose a good retinol face serum and kick advanced skincare routine off with your new ally. We have prepared the list of 7 top retinol face serums for you, so you can pick and choose among the best vitamin A skincare products formulated with the finest ingredients.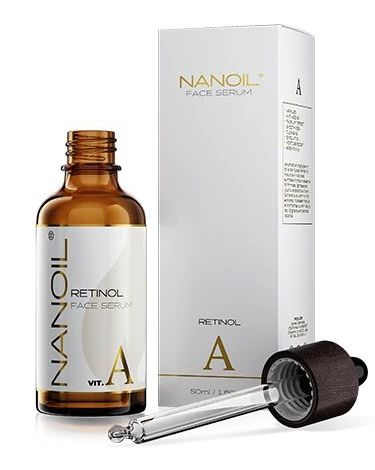 1. Nanoil, Retinol Face Serum, 50 ml
for skin in its: 20s, 30s, 40s, 50s, 60s, 70s
key benefits:
reduces wrinkles
promotes cellular turnover
exfoliates dead skin cells
erases pigmentation spots
fights acne off
stimulates collagen and elastin synthesis
encourages fibroblasts to more work more efficiently
improves skin resilience and suppleness
If we were to choose one retinol face serum to use it for life, we would definitely go for Nanoil Retinol Face Serum. This is a remarkable and multi-tasking face serum which is dedicated for all skin types (oily, dry, acne-prone, combination) at all ages. Nanoil vitamin A face serum promotes youthful-looking skin by visibly and measurably improving its condition and appearance. This is smooth complexion with no trances of wrinkles or imperfections. It takes just a few weeks of regular use to notice all the benefits of Nanoil Retinol Face Serum. The finest form of vitamin A is teamed with a highly precious Boerhavia Diffusa root extract, which is a natural antioxidant responsible for combating free radicals and inhibiting oxidative stress. Apart from that, this natural-origin substance shields skin from toxins, helps retinol defy ageing and leaves skin calmer.
Learn more: www.nanoil.co.uk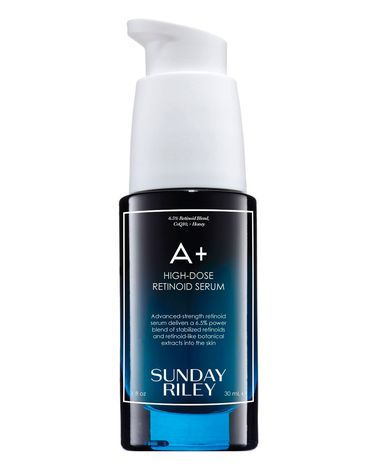 2. Sunday Riley, A+ High-Dose Retinoid Serum, 30 ml
for skin in its: 30s, 40s, 50s, 60s, 70s
key benefits:
promotes cellular turnover
rejuvenates, reduces wrinkles
improves complexion
has a strongly exfoliating effect
closes skin pores
makes skin more damage-prone and shields it
This face serum offers you 6,5% retinol, which at first glance may seem to be quite a lot. It appears though that this 6,5% is made up of: 5% gentle retinol esters, 1% pure retinol and 0.5% natural-origin retinol-like algae. This serum's main task is to restore balance to skin. This is why it delivers strong effects but at the same time it's able to protect epidermis from damage and encourage cellular turnover. This face serum is perfect for skin living in a city that is constantly exposed to urban pollution. It's worth mentioning that this Sunday Riley face serum has to be used in moderation. Especially at the beginning of the treatment it's suggested taking short breaks in putting it on the skin. Retinol used in such a high concentration may deliver too intensive effects.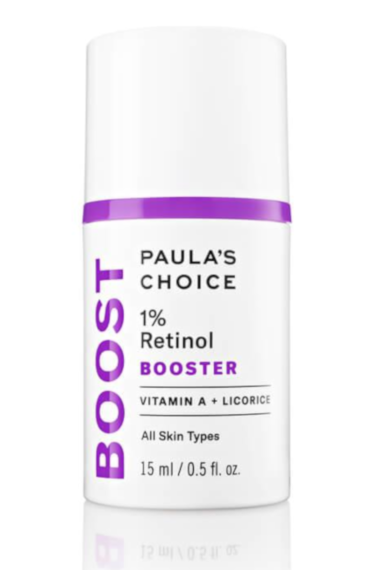 3. Paula's Choice, 1% Retinol Booster, 15 ml
for skin in its: 20s, 30s, 40s, 50s
key benefits:
erases fine lines
refines skin's texture
fights the signs of photoaging
highlights pigmentation spots
improves skin resilience and elasticity
controls sebum production
Paula's Choice, 1% Retinol Booster is – as the name speaks for itself – 1% retinol concentrate. It's highly effective in addressing various skin concerns such as acne, pigmentation spots and even seborrheic keratoses. This is another anti-ageing face serum receiving positive feedback from its users. It's also appreciated for visibly promoting cellular turnover. When it comes to the ingredients used, this retinol face serum is teamed with apple extract that is known for being able to regenerate tissue. Another constituent, that is licorices extract, soothes skin and erases redness that may sometimes appear after application of this serum.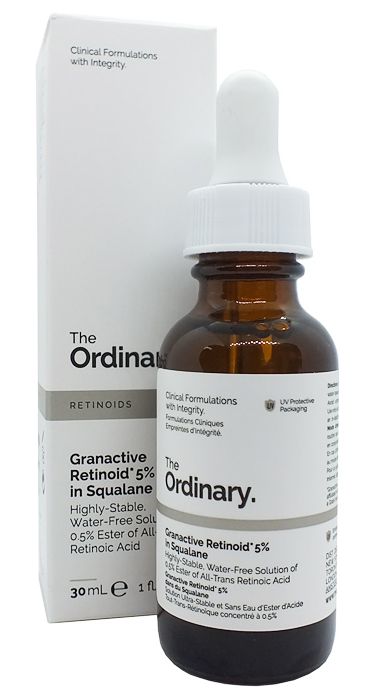 4. The Ordinary, Granactive Retinoid 5% in Squalane, 30 ml
for skin in its: 30s, 40s, 50s
key benefits:
softens fine lines
fights the signs of photoaging
highlights pigmentation spots
improves skin resilience and elasticity
closes skin pores
Granactive Retinoid 5% in Squalane is the most expensive and the most effective retinol face serum in The Ordinary offer. It's also the strongest face serum formulated with the potent retinol launched by this brand. The main task of this skincare product is to defy ageing, smooth skin out, improve its resilience and erase pigmentation spots. Additionally, The Ordinary is good at fixing skin damage caused by overexposure to the sun. Granactive Retinoid 5% in Squalane is enriched with tomato extract that is supposed to deliver anti-oxidation as well as jojoba oil that maintains hydration and balances sebum production. The retinol concentration used in this serum is suitable for mature skin. In the case of acne-prone skin, you should reach for gentler face serum.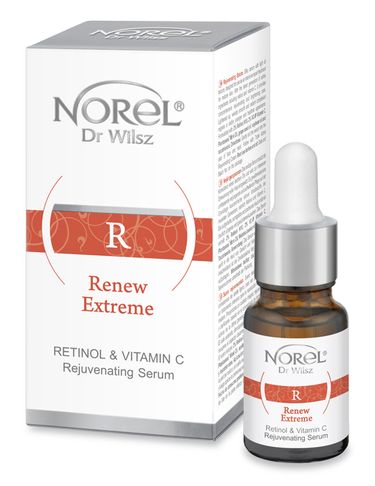 5. Norel Dr Wilsz, Rajuve Extreme, Retinol & Vitamin C Face Serum, 10 ml
for skin in its: 20s, 30s, 40s, 50s, 60s, 70s
key benefits:
smooths skin out
refines skin's texture
ensures even-toned complexion
promotes cellular turnover
deals with dullness
controls sebum production
This face serum formulated with 2% of vitamin A and C each is a good solution for encouraging skin renewal, no matter the age. This serum delivers highly satisfying anti-ageing effects and evens out complexion. Composed mainly of natural oils, this retinol face serum focuses on helping skin regenerate and carry out self-healing processes in mature skin. Apart from that, this cosmetic is supposed to leave skin smooth and soft, even if the skin is extremely dehydrated, or has the tendency to dead skin cell buildup. The good news is that this retinol face serum ensures zero-to-low irritation, which is mainly owed to the substances such as Plantasens®Mink Oil, grape seed oil and soy oil.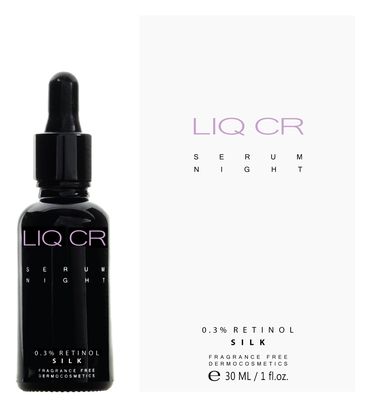 6. Liqpharm, LIQ CR, Night Serum 0,3% Retinol Silk, 30 ml
for skin in its: 20s, 30s, 40s, 50s, 60s, 70s
key benefits:
has an antioxidative effect
fights the signs of ageing
highlights pigmentation spots
smooths skin out
protects against environmental stressors
Liqpharm, Night Serum with retinol is a cosmetic displaying a very strong anti-ageing effect and is equally good at eliminating free radicals. It's one of the best skincare products that protects face against urban pollution. Day by day, it contributes to improving skin's quality and resilience. Apart from retinol, this face serum is formulated with lactobionic acid which the mentioned antioxidant effect is owed to. This retinol face serum soothes inflammations and hyaluronic acid, which is another constituent of this cosmetic, is responsible for maintaining adequate hydration levels in skin. The presence of vitamin E ensures additional de-ageing effects and delivering a huge portion of nourishment. The lack of fragrances or synthetic colorants work for this Liqpharm retinol face serum's advantage.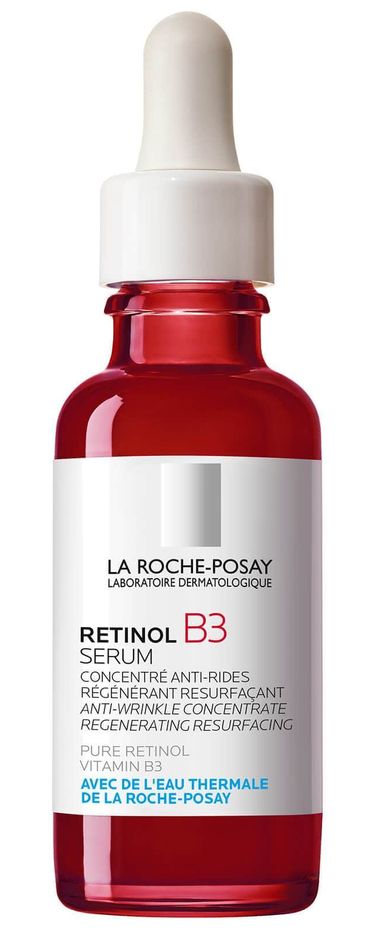 7. La Roche-Posay, Retinol B3 Serum, 0.3% Retinol + Vitamin B3 Serum, 30 ml
for skin in its: 30s, 40s
key benefits:
has an antioxidative effect
fights the signs of ageing
highlights pigmentation spots
protects against environmental stressors
Retinol face serum by La Roche-Posay is a way to achieve beautiful, radiant and lovely-looking complexion. The duo of 0.3% retinol and vitamin B3 is a good solution to treat skin that is affected by mild acne and first signs of ageing. When used systematically, skin becomes well-hydrated and visibly renewed. Moreover, La Roche-Posay retinol face serum grants healthy-looking and glowing skin. A slow-release retinol helps diminish fine lines and other signs of ageing. Over time, skin looks brighter, resilient and even.