The hero of today's article is a new item for couperose and sensitive skin. What ingredients is the formula made from? What about the texture of the product? What does it do and why is it experts' top recommendation? You'll find the answers in our review of Nanoil Anti-Redness Face Serum.
This serum was a pleasant surprise right from the start. It is one of the nicest face serums on the cosmetic market. Nanoil Anti-Redness is a treat for all fans of beauty products that don't only work great but also look lovely on a vanity table.
Weightless serum gentle on the skin
Obviously, what's inside the bottle is the most important, and we feel pleasantly surprised again because it's a lightweight, water-based serum. It isn't too thick, oily or heavy, so it is cut out for sensitive, fragile skin. It doesn't form a greasy or sticky coating on the skin, and doesn't clog the skin pores either. Nanoil Serum is absorbed really fast, giving an amazing feeling of relief and hydration that are essential to a redness-prone complexion.
What ingredients is Nanoil Anti-Redness Serum made from?
Each drop of this weightless serum is filled with nutrients that have been chosen painstakingly. Each one has a specific role to play, giving us a truly beneficial face enhancer.
Buckeye extract supports blood vessels.
Vitamin B3 works similarly, sealing them and increasing resilience.
Linden extract has a cooling effect and wards off inflammation.
Cypress cone extract abounds in nutrients.
A plant called Punarnava is a potent antioxidant.
We love this simple formula because it is not overloaded by needless additives like silicones, mineral oil, pigments or synthetic fragrances.
Effect of Nanoil Anti-Redness Serum
Because the product is clean and holds only beneficial ingredients, it produces the best effect on couperose, hypersensitive and redness-prone skin. What are the real results that you can bargain for when you buy Nanoil Anti-Redness?
From the moment you use it for the first time, Nanoil Serum alleviates irritations and allows you to feel better in your own skin. It restores optimal levels of hydration, nourishes, soothes, and calms flushed skin. Over time, the skin gets healthy and lovely again. Red patches and broken capillaries fade while new irritations occur less often. Apart from the cooling and revitalizing effect, Nanoil Anti-Redness Serum keeps the skin young-looking, elastic and glowing, plus protects the sensitive complexion against all possible irritants, for example sun exposure or toxins.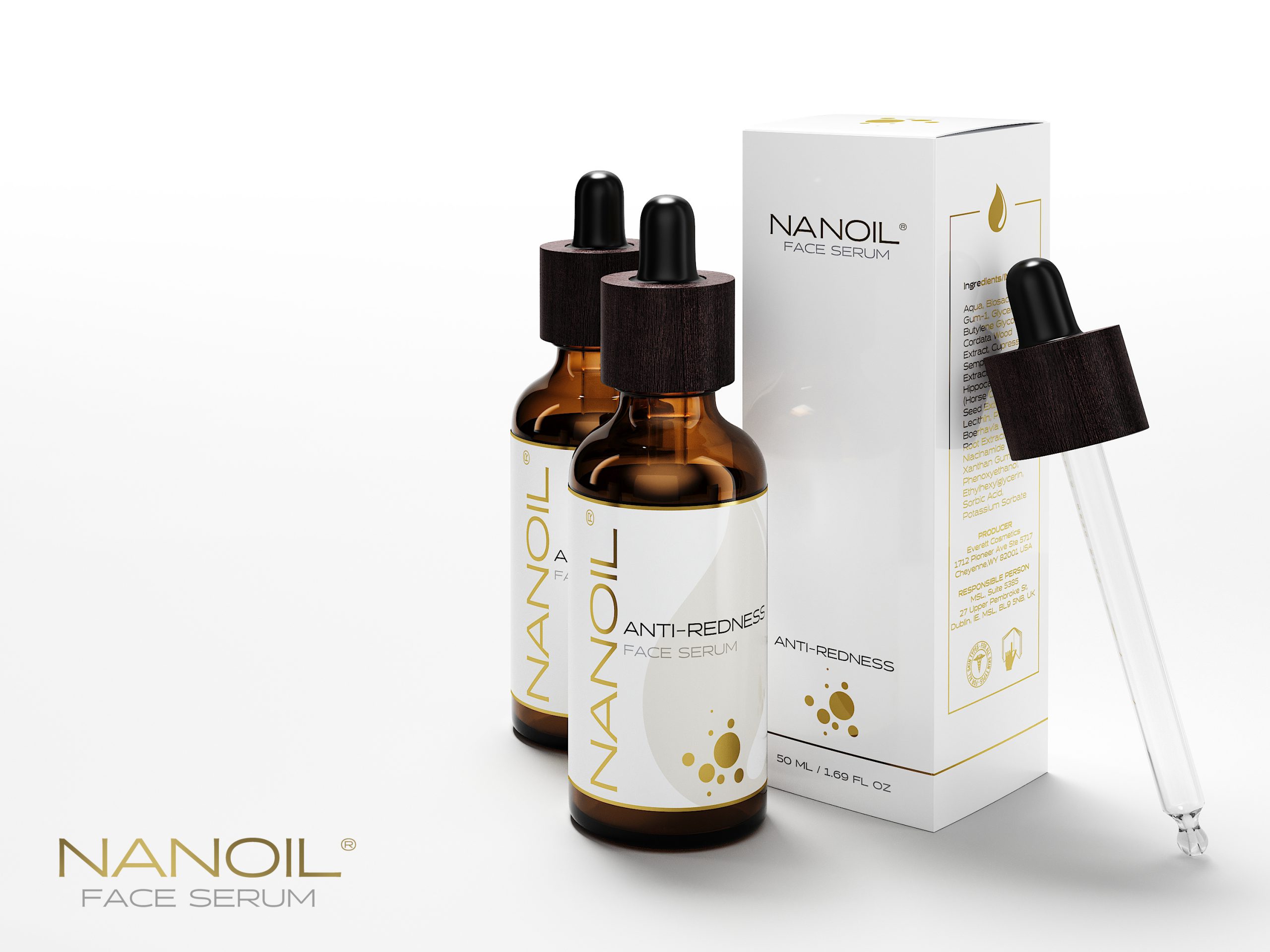 How to use the serum?
You may think that such wonderful results can't be achieved at home or they take hours of complicated treatments. Nanoil proves making a highly-effective, delicate and easy-to-use treatment is possible. The application of this and other serums from the brand involves three simple steps:
Thorough make-up removal, face wash, drying the skin
Patting the serum on using the fingertips
Using face cream as soon as the serum is absorbed
Ideally, Nanoil Anti-Redness should be used at bedtime because our skin bounces back at night. You should definitely keep that in mind.