Are you dreaming of brows that look like they're laminated? You can get the look using brow soap! That's why soap brows are one of the hottest looks and trends these days. What soap to choose? Together with experts from Nanobrow and their iconic brow soap we share how to get the laminated brow look.
Get to know special brow soap – Nanobrow Eyebrow Styling Soap
Why do we hail it as the special one? Because Nanobrow Eyebrow Styling Soap has a unique, delicate, gel-like texture which helps take control of unruly brows in a jiffy – you can shape them the way you like the most. This soap delivers the ideal shape of eyebrows keeping them untouched for many hours. It goes well with any brows no matter if they're thin and sparse or thick and bushy: Nanobrow Eyebrow Styling Soap will sculpt any brows. We believe it's gonna be your favorite brow-shaping product because it's already won thousands of women's hearts!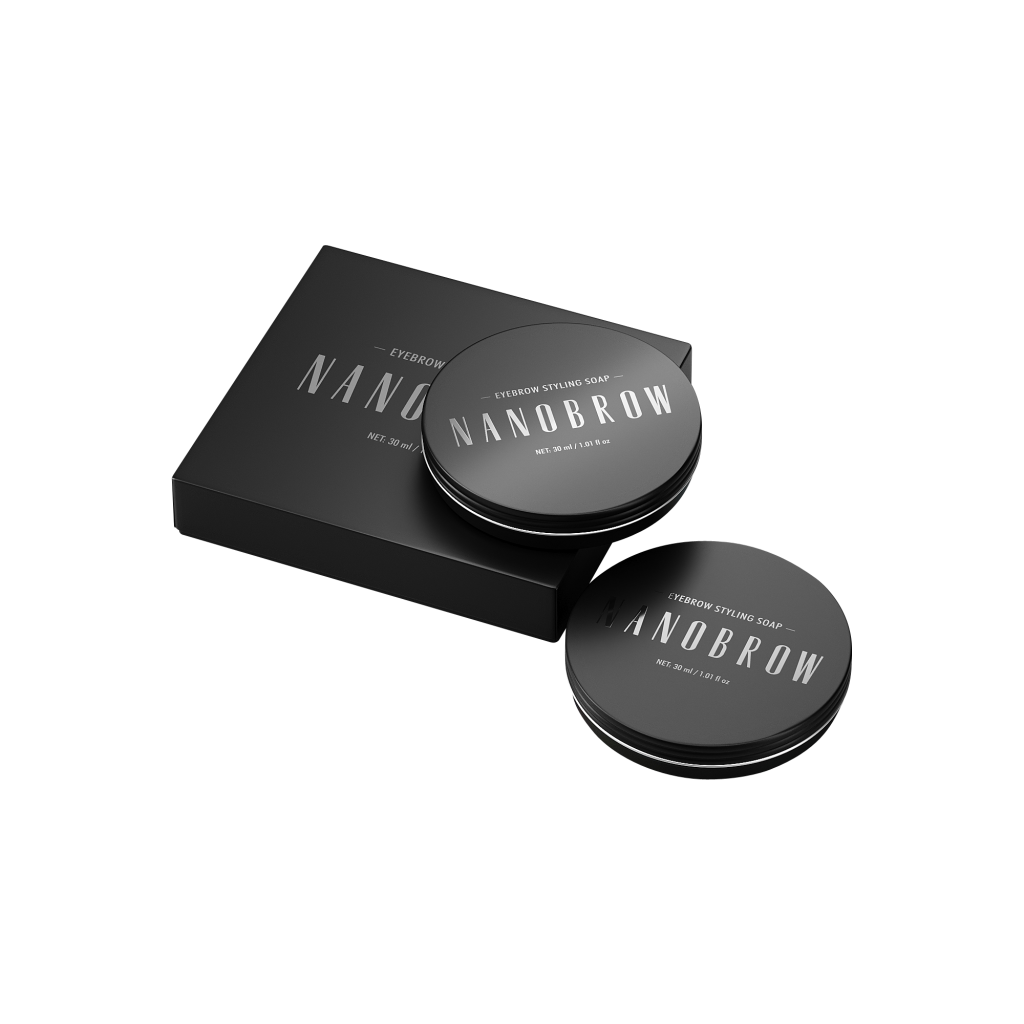 Soap brows in the past
Did you know that regular soaps for hand washing were used for doing the brows in the past? Obviously such soaps weren't made for this purpose: the texture was far from perfect so they had to be mixed with water, taking time and patience. Sometimes it was impossible to create the perfect consistency; some soaps would even harden and leave visible residue on the brows, yuck. Nanobrow's soap is nothing like that: a soft soap has the desired texture and comes in a beautiful jar. You can use it without losing time on thinning it with water! The quickest brow make-up you can imagine! How to do soap brows with Nanobrow? See how to apply day and evening brow make-up!
SOAP BROWS – METHOD 1 – light day make-up
The quickest and easiest way to get perfect brows!
You just apply a tiny amount of Nanobrow Eyebrow Styling Soap on a spoolie which comes with the product. No need for using water. Now you simply comb through the brows giving them the desired shape. The soap doesn't take long to set – it will keep the hairs in check. Done!
SOAP BROWS – METHOD 2 – bold evening make-up
This style is perfect for big events and evening make-up. If you're into bold brows or your brows are sparse and patchy, then you'll love this way of doing the soap brows! How to get the look?
Follow the steps from method 1 and then when the soap hardens, use other brow make-up products – Nanobrow's pencil, pen, powder or pomade will be a great addition. Slightly enhance the lower line with the pomade or pencil, fill in the brows using the Nanobrow smooth powders and draw hair-like lines in the sparse areas using the pomade or pen. The brows will look fuller and you will add definition to your make-up.
Nanobrow Eyebrow Styling Soap – you're gonna love the effect!
Brows have the perfect shape.
They look terrific all day long.
The soap is great for fans of #nomakeup trend.
The gel-like texture styles each hair.
Brows have more volume.
No need for touch-ups.
Brows appear fuller and fluffier.
Nanobrow Eyebrow Styling Soap – where to buy it?
Visit www.nanobrow.uk.co and enjoy shopping!