Damaged hair requires proper care and a couple of targeted treatments to restore the lost shine and strength. When finally repaired and resilient, the hair is fast to get back to its "poor" form if you keep exposing it to high temperatures. Each heat styling session causes minor damage, which slowly leads to serious problems: hair loses moisture, becomes dull, starts splitting. Without adequate protection, there is no way for the hair to endure the scorching temps. Luckily, the present-day heat protection cosmetics are perfectly able to divert the heat from the tresses, at the same time allowing you to create the desired style. Win-win solution, isn't it?
The owners of frazzled hair don't have an easy life. Creating a style with strands that are brittle and over-processes is no mean feat. Instead of wringing your hands in despair, try to figure out what led you up to this. Naturally, there is a number of procedures that weaken your hair, among which the most obvious are: invasive in-salon treatments such as bleaching and dyeing, combing wet hair after washing, or frequent use of heat styling tools. To stop these treatments from ravaging your strands, it's advised to take a closer look at how you're used to treating your hair daily.
New rules for healthier hair
FIRSTLY, it's worth investing some money in a good quality shampoo, conditioner and hair mask. Look for nutrients that after penetrating the shaft, reverse damage and increase resistance to damage, both mechanical and caused by high temperatures. Plant oils, proteins and vitamins will help you replenish strands with what they need most.
SECONDLY, giving up on coloring and bleaching may be hard to do – we know that. However, if you really need to do this, get this treatment done in a trusted hair salon. This is the place where top-quality dyes are used, and where professionals are qualified enough to create the desired results, inflicting almost zero harm on the hair.
THIRDLY, make use of backcombing rarely. Wear tight updos only when absolutely necessary. On other occasions, go for less invasive hairstyles to limit the risk of mechanical damage.
FOURTHLY, every time you want to heat style your strands, ALWAYS apply a heat protectant prior to the procedure. A good quality product will prevent the heat from damaging your hair. Interestingly, some of such cosmetics are also able to repair hair.
List of the top-rated heat protection products for hair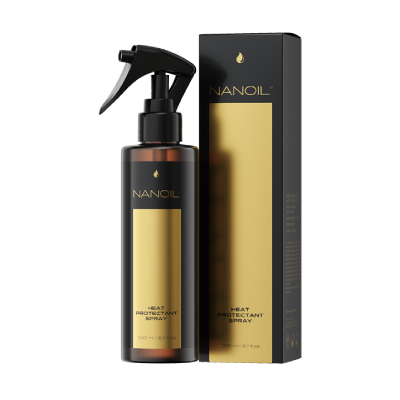 No. 1 – Nanoil Heat Protectant Spray
Thought-out formula, top quality and fair price – this is what Nanoil Heat Protectant Spray is known for. Empowered by fine ingredients, it meets all the requirements given to a thermal spray: it protects, nourishes and smoothes the hair. Vitamin E and hydrolyzed silk proteins combat dryness. Additionally, they create a thin coating to lock moisture and fill in the cracks on hair's surface. Static and frizz is dealt with, so are the dullness and brittleness. These effects are created without compromising the fluffiness of your style. 
When it comes to its key feature, Nanoil Heat Protectant Spray is proven to create 440-degree protection (220-degree in Celsius). The same protection shields the hair against UV and dry air. To create this effect, apply a few sprays to the just-washed hair, and move on to create a style using heated devices. The more you use Nanoil Heat Protectant Spray, the prettier and stronger your hair will be getting. If you wish to learn more about Nanoil thermal spray, go to nanoil.co.uk.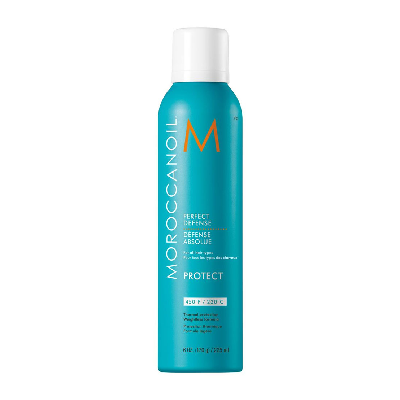 No. 2 – Moroccanoil Protect Spray
This product is able to fix damaged hair due to one plant-based ingredient, which is argan oil. This natural-origin nutrient increases elasticity in hair, promotes smoothness and leaves you with easily manageable strands. Another ingredient used in Moroccanoil Protect Spray is provitamin B5. This one is responsible for keeping hair moisturized and glossy. Primarily created to protect the hair from the side effects of heat styling, this spray is also good at providing UV protection.
Argan oil added to the formula is perfect for extremely dry and frazzled hair because it moisturizes, nourishes and creates protection. Strands are getting less brittle, easier to style and resistant to frizz. Be careful though because if you put on too much product, you may end up with greasy and stringy hair. Still, we wholeheartedly recommend Moroccanoil Protect Spray for damaged hair, even though we think it may be a bit less pricey.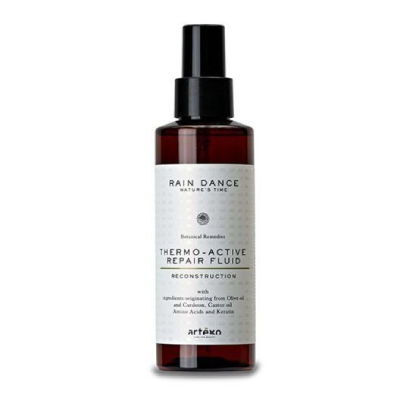 No. 3 – Artego Rain Dance Thermo Active Repair Fluid
One of the most impressive things about Artego Rain Dance Thermo Active Repair Fluid is its huge number of nutrients, often originating from certified farming. Keratin and amino acids are responsible for reversing damage. Castor oil and camellia oil replenish nutrients to the hair. Glycerin takes care of hydration and shields the strands against high temperatures. Sugar is in charge of smoothing out risen cuticles for a shinier appearance. Finally, glyoxylic acid prevents frizz and detangles hair.
Thanks to such a rich formula, hair becomes fuller-looking and more elastic, which naturally combats brittleness and splinting. To get these results, you need to apply Artego Rain Dance Thermo Active Repair Fluid to freshly-washed and damp hair. Mind the dosage though, because too much product may cause greasy scalp. However, once you figure out the right dosage for your hair, you will love the results.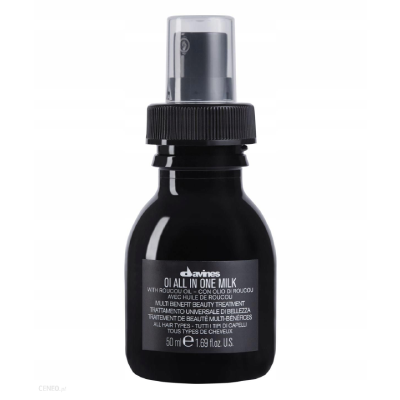 No. 4 – Davines Oi All In One Milk
This product is dedicated mostly for those who are keen on high-end beauty products, which obviously doesn't mean that regular customers can't use it. Considered as a luxurious cosmetic, Davines Oi All In One Milk is pricey and can be found only in professional salons. Naturally the high price isn't the only indicator of exclusiveness because this heat protector is formulated with pretty interesting ingredients. One of them is roucou oil that handles damage like no other oil and counteracts the adverse effects of UV overexposure.
Together with provitamin B5, Davines Oi All In One Milk is proven to deeply moisturize frazzled strands, so they become less brittle. The protective coating minimizes the destructive effect of heat styling, as well as leaves hair shinier and more manageable. Lastly, this heat protectant is also known for increasing the longevity of a style.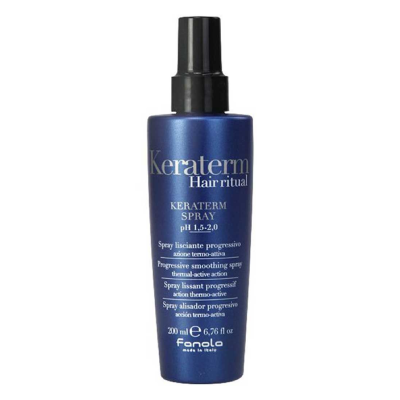 No. 5 – Fanola Keraterm Hair Ritual Spray
Now a product for those who expose their hair to keratin treatment or other invasive in-salon treatments. Formulated with keratin, macadamia oil and shea butter, Fanola Keraterm Hair Ritual Spray is surprisingly good at nourishing and protecting the hair from various sources of damage. Its heat-protective properties are combined with appearance-improving abilities. This means that after coating the strands with this spray, they win strong heat protection and visible shine boost.
Fanola Keraterm Hair Ritual Spray doesn't reduce volume in hair, but improves elasticity, tames unruly tresses and leaves them soft. Moreover, this product is said to speed up drying time, which helps you create desired hairdos quicker. Last but definitely not the least, this heat protectant's formula is free from SLS and SLES.