It combines the properties of six natural vegetable oils. The product contains innovative ingredients that stimulate hair growth and prevent hair loss. It works inside hair bulbs and on hair surface. Nanoil for high porosity hair has been created to save dehydrated, brittle, rough and extremely weak hair.
Our hair needs really delicate and personalized care. Its condition may worsen every day due to harmful factors, including blistering sun, air pollution, heat produced by blow-driers, flat iron, etc. Sensitive hair structure is covered with thousands of tiny cuticles which can get damaged. Hair becomes weak and harsh when cuticle scales raise. Hair porosity defines how damaged hair is. If the porosity is high, it means nothing good.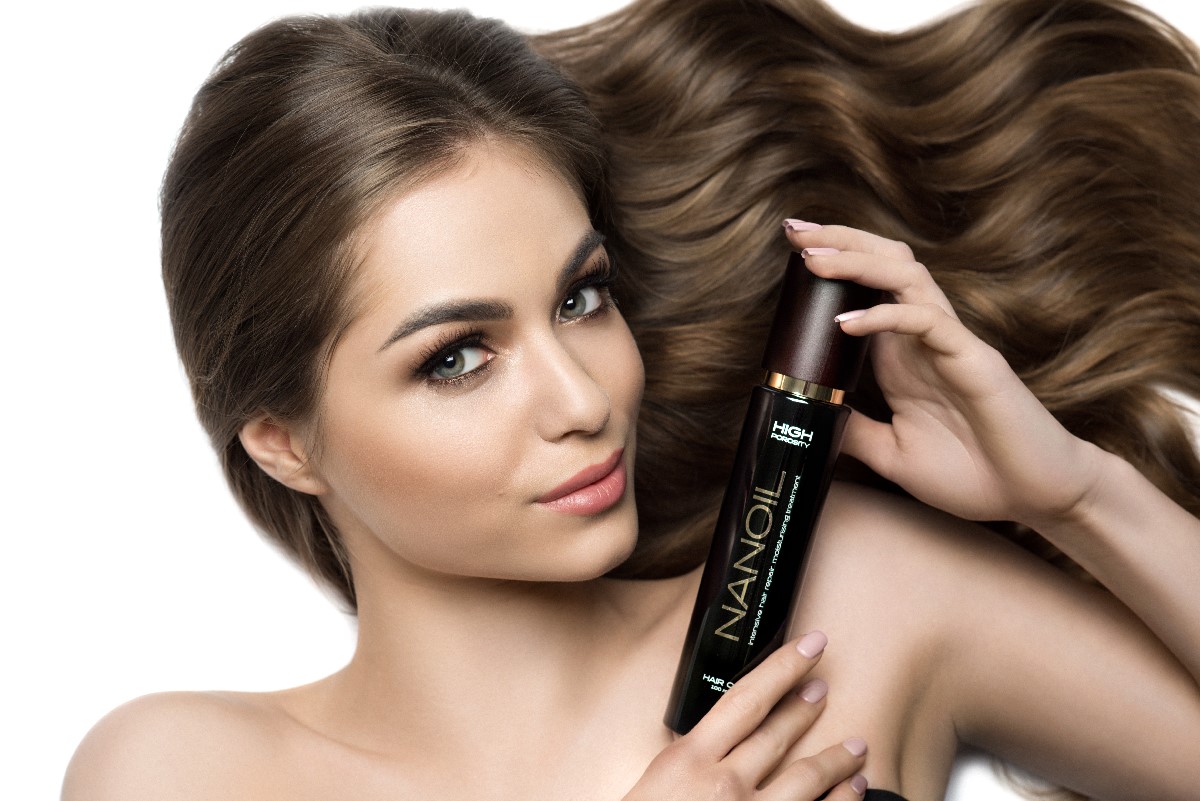 1 Hair type
High porosity hair requires both delicate and very strong care. Nanoil for high porosity hair provides this kind of care. Delicate – not to worsen its poor shape. Strong – to work effectively and get rid of the problem. High porosity means that cuticles are raised almost to the maximum. When this outer layer is disturbed and porous, two things happen: hair loses moisture and nutrients very quickly; it is easier for external factors (e.g. toxins) to penetrate the sensitive hair structure. Effect? Straw-like, dehydrated, stiff, brittle, rough, dull and frizzy hair with split ends. Lifeless hair that is almost impossible to style.
1 out of 3 multifunctional oils
Nanoil for high porosity hair answers the needs of stressed hair. Precisely matched care is necessary for this hair type. Nanoil is an exclusive treatment based on natural oils which is ideal for hair structure. Months of research on human hair structure and tests of hundreds natural substances have led to the creation of an elixir which is able to give back the health and beauty of your hair.
Nanoil for high porosity hair:
rebuilds keratin structure of hair,
inhibits hair loss and provides proper moisture,
reinforces protective barrier through closing the cuticles,
smooths hair, defrizzes,
adds beautiful gloss,
strengthens hair bulbs, stops hair loss,
balances skin pH and work of sebaceous glands,
boosts volume, facilitates styling and combing.
6 natural oils
Nanoil for high porosity hair is the combination of six best natural vegetable oils. Not just any oils but the ones that contain fatty acids suitable for damaged hair. In case of high porosity, repairing and protective action is important. It is provided by large quantity of polyunsaturated fatty acids. Nanoil for high porosity hair contains a complex of oils that perfectly match damaged hair structure.
Sweet Almond Oil – emollient that smooths hair and prevents brittleness, reinforces lipid layer of the scalp and soothes irritation.
Argan Oil – shields from high temperature, reinforces intercellular cement and deeply repairs hair by sealing the cuticles.
Evening Primrose Oil – enhances the work of cells in the scalp, controls the work of sebaceous glands, locks in water.
Avocado Oil – prevents water loss, smooths hair fibre, adds bounce, defrizzes and intensifies shine.
Maracuja Oil – strong antioxidant that balances processes on the scalp thus keeps hair from getting greasy and adds elasticity.
Cottonseed Oil – ideal protection of sensitive hair ends prone to splitting; improves moisture and adds softness.
8 extra substances
Apart from natural oils, Nanoil for high porosity hair includes some more beneficial substances. The action of perfectly selected natural vegetable oils is enhanced by eight extra substances which play a key role in the product. They intensify the action of oils and provide the formula with other interesting properties.
Panthenol – supports hair repair process and increases gloss.
Keratin – seals keratin structure of hair, fixes damage.
Kerastim – blocks hair loss thanks to stronger hair bulbs.
Baicapil – stimulates hair growth and appearance of baby hair.
Vitamin E – works as an antioxidant, reacts against hair ageing.
Silk – facilitates styling and brings softness.
Lanoline – smooths and makes damaged hair elastic, delivers radiance.
UV filter – reduces harmfulness of UV radiation.
100 ml capacity
Numerous valuable ingredients of various properties are hidden in an extraordinary elegant black bottle. Nanoil hair oil means simplicity and minimalism. The design of the bottle is free from exaggerated decorations. It is made of solid, resistant to breakage glass. The comfortable pump makes the application easier whereas its unusual shape is really handy. The precisely designed bottle conceals liquid gold – a blend of natural oils and additional substances that make Nanoil for high porosity hair the best product for damaged hair. The cosmetic provides complex care and matches individual needs of every hair type. It can be used in a variety of ways.
3 versions of Nanoil hair oil

The whole series of Nanoil hair products consists of three oils. We have already discussed Nanoil for high porosity hair which is ideal for stressed hair. You can also buy:
Nanoil for low porosity hair that resists styling, straight, heavy, requiring permanent protection (with 9 natural oils: cedar, coconut, argan, castor, shea, babassu, maracuja, monoi, cupuacu).
Nanoil for medium porosity hair of worsening condition, prone to frizz, splitting, dryness and brittleness (with 6 natural oils: argan, macadamia, marula, jojoba, maracuja and coconut).