You do your hair every morning, applying mousses and hairsprays to get the desired look. Even though you're well-aware of the risk that such products impose on your hair, you keep putting them on every day, exposing your mane to damage. Indeed, it's common for regular hair styling products to cause dryness, which soon transforms into brittleness and dullness. Does it mean that you need to choose: either a cute hairdo+dry hair or a ponytail+healthy hair?
Of course not! All you have to do is replace regular styling products with just one innovative cosmetic like Nanoil Hair Styling Spray. This product gives you fabulous blowouts and long-lasting hold, causing zero damage to your hair whatsoever. How does it do that?
Styling & care in one?
That's not impossible! You can style your hair the way you like and still enjoy moisturized and shiny strands as long as you use Nanoil Hair Styling Spray. This cosmetic is unique: it increases manageability of the hair, extends the life of your style, delivers nutrients and in general keeps the hair healthy and damage-resistant, which is particularly important during styling. On top of that, this Nanoil spray creates a finish that is far from being stiff, crunchy or sticky.
What can you find in Nanoil spray?
Naturally, these are the ingredients that make Nanoil Hair Styling Spray so unique. It appears that this product is free from unwanted fillers, as the formula is thought-out, composed from well-selected ingredients. In this dark bottle you can find lightweight silicones that tame unruly wisps in a second. Other ingredients like castor oil and panthenol promote strong and better-looking strands. Together, they leave you with shinier, smoother and softer hair that is easy to brush and style.
Application of Nanoil Hair Styling Spray
Another great thing about Nanoil styling spray is that there is more than one way in which you can put it on your hair. No matter which method you choose, the effects will always be the same: a perfectly-looking style that stays in place for the entire day, no matter the conditions. Here is how you can apply Nanoil Hair Styling Spray to your hair:
APPLICATION METHOD 1 You can apply it as any other styling spray, to towel-dried hair before blow drying and styling.
APPLICATION METHOD 2 You can also use it the same way you use a hairspray for soft, yet strong-hold.
APPLICATION METHOD 3 Finally, you can also apply it during the day, whenever you feel like smoothing hair out or taking control over flyaways.
As you can see, Nanoil Hair Styling Spray isn't only easy to use but it's versatile as well. Lightweight and colorless, Nanoil spray can be put on even a few times a day, anytime you need it. No matter the hair type your hair is, Nanoil Hair Styling Spray always works wonders.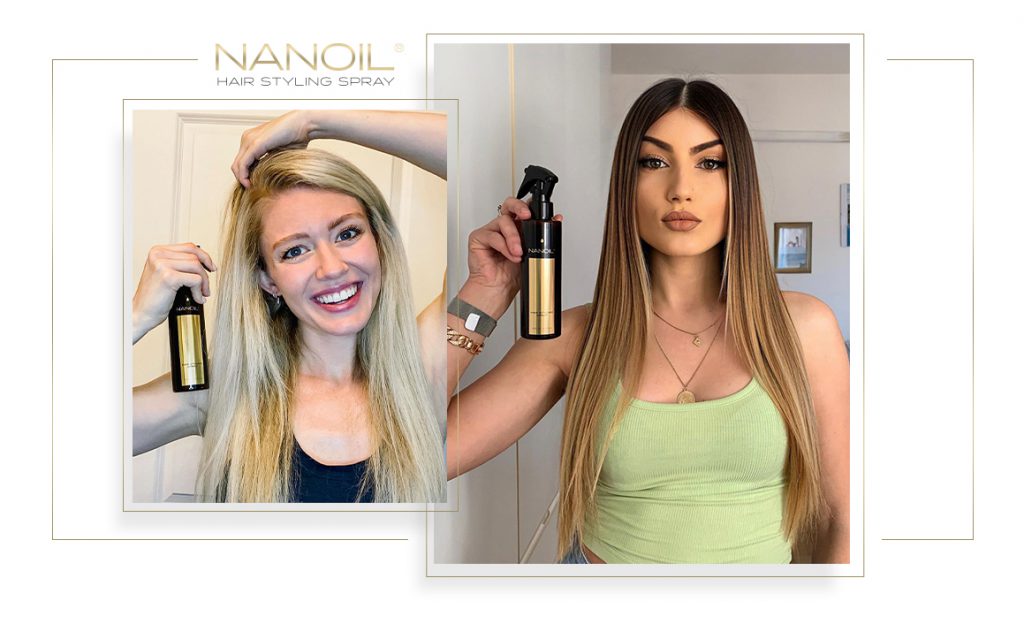 See the effects of Nanoil styling spray on your hair!
Aren't you still sure what the difference between Nanoil Hair Styling Spray and other styling sprays is? Would you like to find out whether Nanoil spray is really able to extend the life of a style without depriving hair of moisture? Stop chewing on it – test it! Go to the official Nanoil store nanoil.co.uk and order Nanoil Hair Styling Spray to your home. After a couple of days you will be able to get enormous pleasure from styling your hair.