Are you one of the people who think that shampoo isn't an important hair-care product? If so, it's time you felt what a good hair wash is able to do. Try a shampoo that is a nice surprise. Combination of thorough washing, conditioning and nourishing. See what makes Nanoil Micellar Shampoo based on argan oil one of the best-sellers.
Nanoil Argan Oil Micellar Shampoo. A hair wash that makes a difference
The major role of a shampoo is thorough cleansing so it's weird so many shampoos fail to do that, let alone other effects. Poorly washed hair and scalp buildup give you lots of hair problems and cause bad condition of strands.
We should care for hair even while shampooing and that is why it's good to reach for a micellar shampoo which leaves hair clear of dirt, sweat, toxins and product buildup (styling cosmetics in particular) but has one more benefit: it conditions the scalp, balances the pH and prevents irritations.
Nanoil Argan Micellar Shampoo makes you feel the difference after first usage. Hair has more volume, is easier to detangle even when it's damp, looks shinier and feels smoother.
Components of Nanoil Argan Micellar Shampoo
Nanoil Shampoo contains top-quality substances that together make up a super-conditioning formula making hair look so much better. The argan micellar shampoo holds:
Argan Oil – the best hair oil which secures against damage, boosts shine, strengthens. It also delivers fatty acids and vitamin E that are essential for healthy hair.
Micelles – deeply clean the hair, adding volume and a beautiful look.
Tara Gum – makes hair better-looking, hydrates, controls oil production.
Castor Oil – protects hair color, strengthens, prevents hair loss.
Sericin – moisturizes hair, boosts volume.
Even though some of the components are rare, you can be sure that Nanoil Argan Micellar Shampoo doesn't contain random substances. They are all blended so as to give us strong, healthy, luminous hair.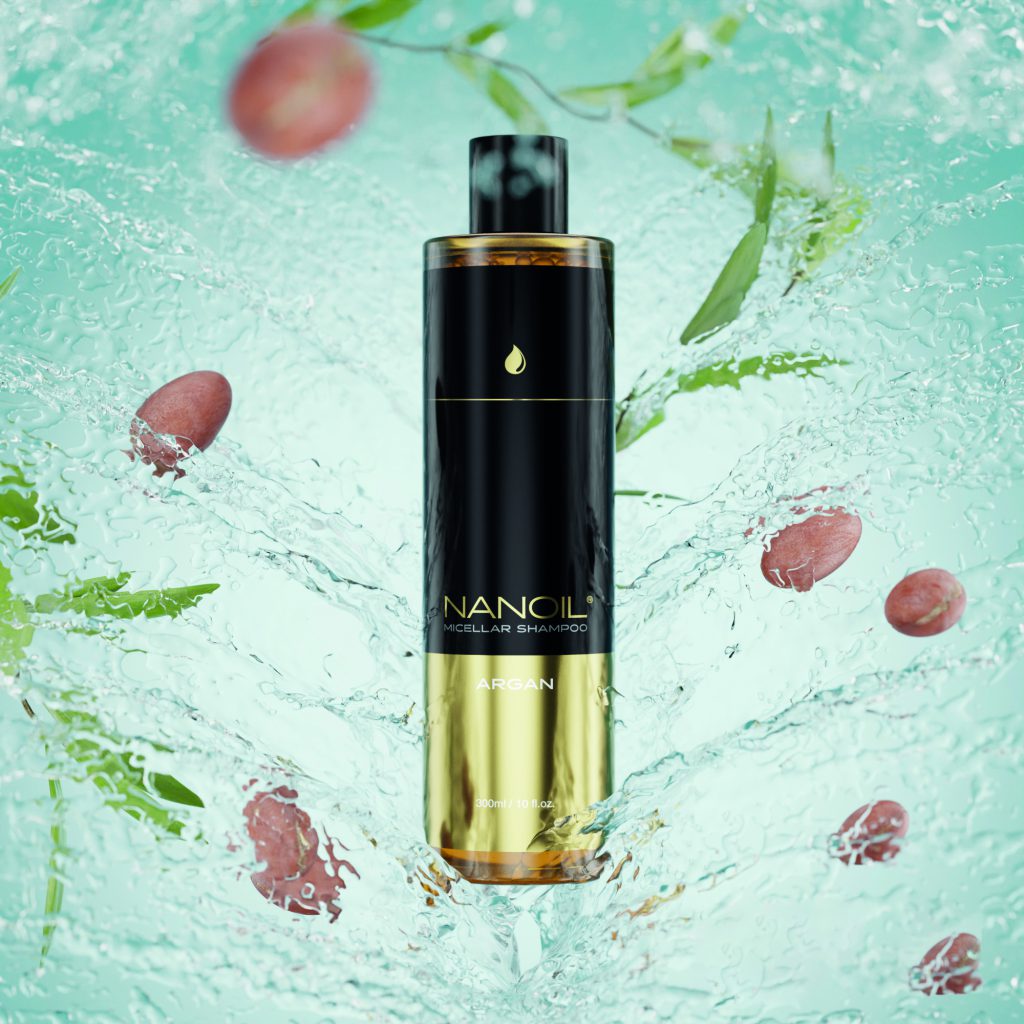 Effects: what does the Nanoil Argan Micellar Shampoo do?
Here's what you can bargain for:
Strong, nourished hair.
Fully clean scalp.
Balanced pH of scalp (no itchiness or greasiness).
Softer, smoother, manageable hair.
No frizz or tangling.
Flawless hairdo anytime, no matter the conditions.
Resistance to low and high temperature causing damage.
Nanoil Argan Micellar Shampoo. Reviews are the best source of information!
Because Nanoil Argan Micellar Shampoo is the best argan oil-rich shampoo for cleaner and healthier hair, it's no wonder it is highest-rated in reviews and rankings. Hairstylists, beauty bloggers and vloggers recommend it. The Nanoil Shampoo is a must-have which perfectly washes hair. You can feel your hair is clean and taken care of properly.
See how you can nourish your hair while only washing it. Choose argan oil micellar shampoo and if you need extra nourishment for your hair, get also argan mask and dual-phase conditioner from the Nanoil offer here www.nanoil.us