Your hair is frizzy and detangling it after washing is a nightmare? Try a micellar shampoo rich in liquid silk by Nanoil, giving you both thorough cleansing and conditioning. A must-have!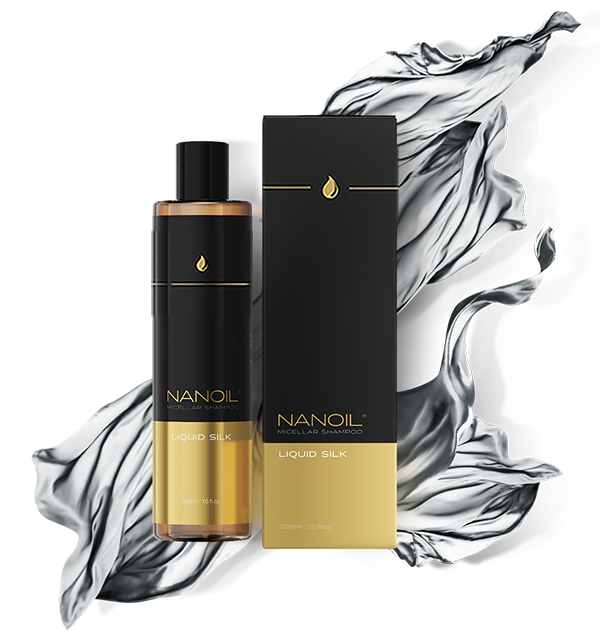 When asked about the most irritating hair problem, women speak with one voice. It's tangled hair, tricky detangling and frizzy strands. All the gripes are eliminated with a silk-rich micellar formula from Nanoil.
Nanoil Liquid Silk Micellar Shampoo
It looks like an exclusive product you can get only in the hair salons. Thankfully, you can have it at home if you wish to wash your hair differently, meaning, better.
The black-and-gold bottle contains a silk-enriched micellar shampoo. The formula is very lightweight and a small amount deeply clears both scalp and hair – no tangled, frizzy or dry hair. You wonder how it's possible? The ingredients in Nanoil Liquid Silk Micellar Shampoo make it a hard-hitting enhancer for fully clean, beautiful hair!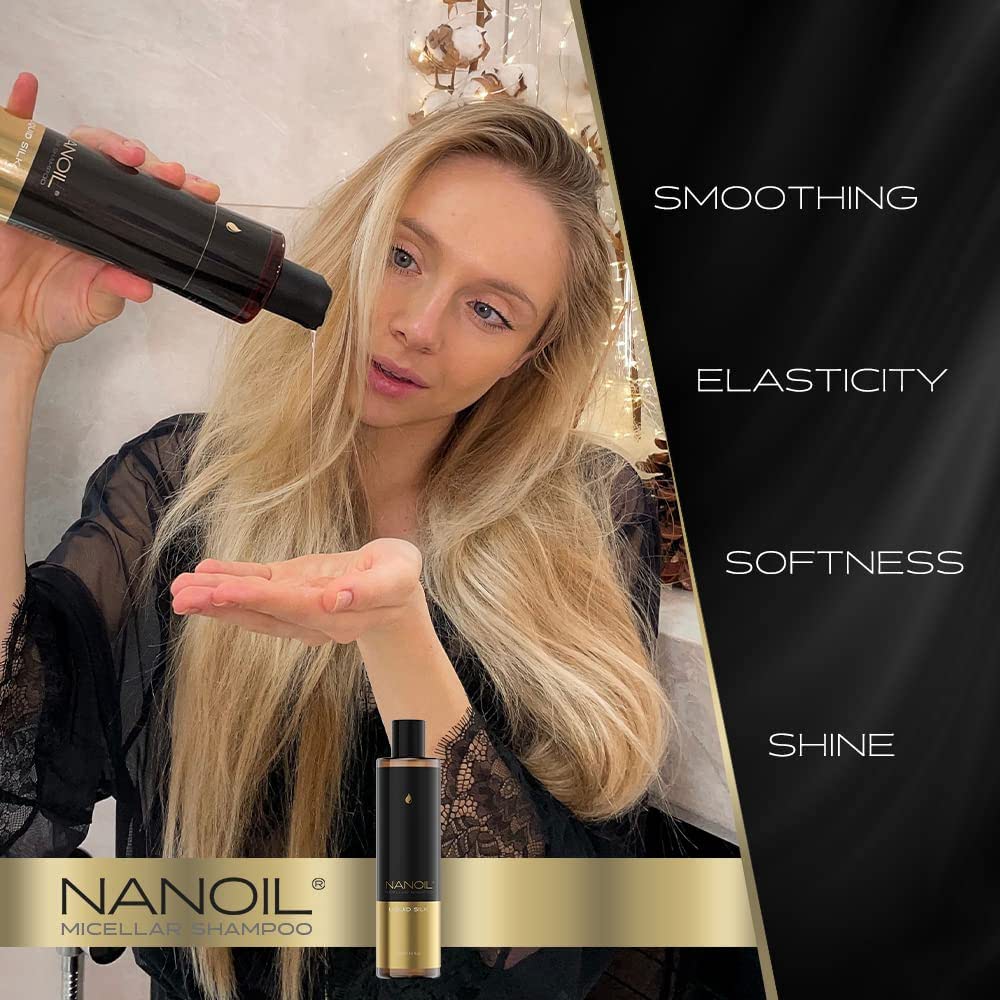 Ingredients that hair really loves
Nanoil Liquid Silk Micellar Shampoo contains:
micelles – they make the formula a strongly-cleansing effect because they work like magnets attracting the dirt from the scalp and hair.
liquid silk – it doesn't only facilitate styling and detangling through smoothing effect, but also strengthens weak strands because it's a natural protein.
castor oil – it works as an emollient and protects against loss of hydration but also restores the scalp pH balance, soothing irritations.
wheat proteins – they ensure hair's strength and resistance to damage, repair, rebuild and restore elasticity in brittle hair.
A shampoo which doesn't merely wash
Thanks to the components, Nanoil Liquid Silk Micellar Shampoo becomes something more than a shampoo. It follows the trends and holistic approach to beauty routine, including hair care. Nanoil proves that washing is the first and the most important hair-care stage.
As far as effects go, we can list two stages that make up the final result:
WASHING – micelles clear scalp and hair of dirt (oil excess also) so hair is fresh, skin is irritation-free, plus nutrients can easily be absorbed to enhance hair from within.
CONDITONING – additional ingredients nourish, repair and strengthen hair, making it more resistant to damage and keeping optimal hydration for longer, but they mostly leave hair smoother and shinier to ease styling and detangling.
Where to buy it?
All Nanoil Micellar Shampoos are available online on the official site where you can pair them with masks and conditioners from the same line, which makes your hair care easier and better – the effects are noticeable after the first use.
If you want to boast smooth, luminous, beautiful hair which is free from static, frizz and knots, choose Nanoil Liquid Silk Micellar Shampoo.