You don't know how to laminate eyebrows but you would like to have thick and defined arches that look stunning for many weeks? Good news: with a professional Nanobrow Lamination Kit, you can create the dream brow look effortlessly!
You don't need any specialized knowledge – thanks to clear directions and numbered bottles, you will easily create the desired shape of brows and finally solve the problem with unruly brow hairs.
Choose comfort and save money with the DIY eyebrow lamination and Nanobrow's lamination kit!
Eyebrow lamination – how long do the effects last?
Eyebrow lamination is a beauty treatment that involves giving eyebrow hairs the desired shape as well as getting rid of all unwanted sparse areas. The long-lasting results are a great asset – after eyebrow lamination, you can enjoy flawless arches for even one month and a half – without filling the brows every day and touching up makeup all the time.
If you're dreaming of precisely shaped eyebrows that stay perfect for a long time, then eyebrow lamination is the best choice!
You can get it done at a pro beauty salon or choose at-home eyebrow lamination.
Nanobrow Lamination Kit is a foolproof eyebrow lamination kit that comes in useful – what makes it stand out?
---
Nanobrow Lamination Kit – eyebrow lamination kit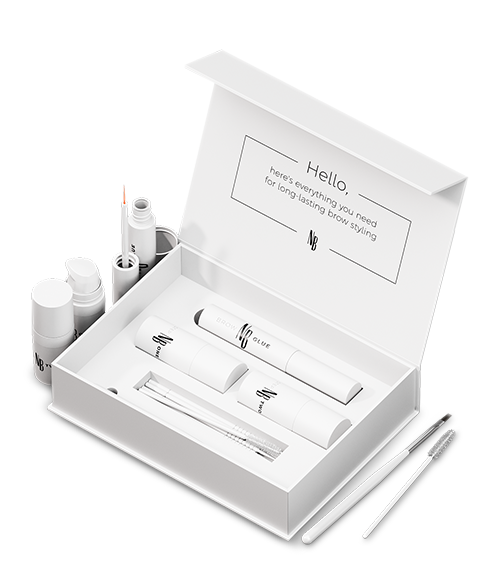 More information can be found on the official website –
nanobrow.co.uk
---
Benefits of Nanobrow Lamination Kit – what do women love this brow kit for?
it includes all that's essential for DIY eyebrow lamination
it comes with comfortable, precise applicators that are cut out for applying the solutions on brow hairs
it delivers a thicker brow look, and keeps hairs from sticking out
it allows us to enjoy the result for up to 6 weeks
it can be used both by pro estheticians and those who have never done eyebrow lamination before
it is enough for over dozen single treatments but has the price of just one lamination at the salon
Safety and comfort with Nanobrow Lamination Kit
Nanobrow Lamination Kit is an at-home eyebrow lift kit that contains special solutions made out of the top-quality substances – safe for sensitive skin too.
This superb option guarantees polished eyebrows achieved in a moment. All you need to do is follow a few simple steps – then enjoy wow results! Even if you don't know how to style your brows, it will prove an easy task with the eyebrow lamination kit from Nanobrow!
Nanobrow Lamination Kit – store/ size
WHERE TO BUY: Nanobrow Lamination Kit is available at the brand's official website www.nanobrow.us, and at physical stores.
SIZE: Brow glue (7ml / 0.24 fl oz), StepOne Lifting lotion (5ml / 0.17 fl oz), StepTwo Fixer (5ml / 0.17 fl oz).
DIY eyebrow lamination may prove an exciting adventure! You have a chance to feel like a true professional and save money you'd spend on pricey salon treatments! Lovely brushed-up brows don't need to be just a dream. Choose a solution that's become a staple of women across the world – Nanobrow Lamination Kit!