Castor oil has made a comeback and is officially one of the hottest beauty items again! Why? Its versatility takes credit for its popularity. It produces amazing effects – it's confirmed by bloggers, celebs and 'mortals'. What's their favorite? It's castor oil from Nanoil. Check how many ways you can use it during your daily beauty routine – you'll be shocked!
Nanoil Castor Oil – best-selling and, above all else, effective
Do you rate natural solutions and multi-purpose products that have simple ingredients and let you enhance your good looks? NANOIL Castor Oil has short INCI: it's Ricinus Communis Seed Oil, cold-pressed, unrefined, certified organic castor oil. If you get it, your beauty routine will be much more fruitful. It has endless uses!
TOP 5 Ideas for Using Nanoil Castor Oil in Beauty Routine
#1 NANOIL Castor Oil for brows and lashes
Looking for a natural eyelash serum? Get yourself Nanoil Castor Oil! It's rich in a substance that is similar to human keratin which is why it's brilliant for repairing lashes and brows. After all, keratin is a building block of hair. You can use Nanoil Castor Oil on brows and lashes to make them thicker and darker: they will grow back looking full and healthy.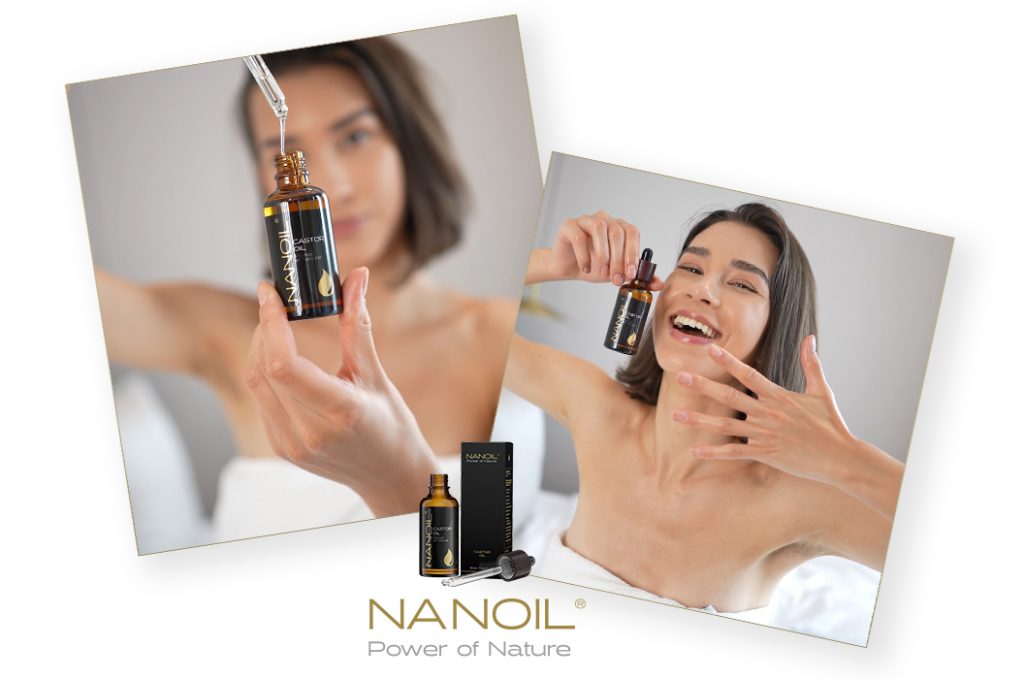 #2 NANOIL – perfect castor oil for hair and scalp
Popular effect of castor oil: it strengthens weak hair, stops it from falling out and stimulates its growth. Use it for an intensive hair oil treatment and you'll quickly see better, healthier, nicer hair having a lovely color. Nanoil Castor Oil also nourishes and cleanses scalp, and reinforces hair bulbs.
#3 NANOIL Castor Oil for nails
Are your nails weak, brittle or split? You use Nanoil Castor Oil to revive them. Nails are built of keratin as well so Nanoil Castor Oil can repair them.
#4 NANOIL – best castor oil for body care
Probably you're not aware castor oil can do that! When used for body massage, it helps get rid of cellulite and lessen stretch marks. It is also wonderful for smoothing the skin and firming it up.
#5 NANOIL Castor Oil – brilliant for face cleansing
If you want to deeply cleanse the face and remove make-up – try an oil cleansing method. Castor oil is a base ingredient of this method – mix it with other oils and use the mixture for cleansing the face, wiping it off with a wet muslin cloth or cotton pads. Fats from oils absorb the face oil and easily remove heavy, comedogenic make-up products for example foundation.
Where to buy Nanoil Castor Oil?
It's available at the best beauty stores on the Internet, but the official site is worth visiting because you can count on fast shipping and some special offers. Go to nanoil.co.uk and choose the best beauty oil. Each from the offer is cold-pressed and unrefined so it's rich in the most valuable ingredients for our skin, hair, nails, brows and lashes. Enter Nanoil's world and get the best beauty items!