Every woman dreams of a voluminous hairstyle which stays fresh long. It is possible to get tresses that have desired volume, lightness and healthy looks – Nanoil Hair Volume Enhancer is a spray for fuller-looking hair which makes the dream come true.
First, do no harm!
This rule applies to doctors but also all those who want beautiful hair. If your hair is flat, especially at the roots, then you should think of possible causes. Oftentimes, handling the hair wrongly or too invasive hair care are the source of the problem. Thick and heavy strands which tend to get oily fast hate anything that builds up on the surface or leaves a greasy coating.
A mild shampoo is the best for scalp cleansing because it doesn't disturb the sebum secretion. A scrub which matches the needs of your scalp will be beneficial too. Some hair types, especially highly-porous, will benefit from oil treatments provided that you don't apply them too close to the scalp, and you rinse them thoroughly. Also, every girl with flat hair knows that touching it is bad and makes the hair get greasy fast. Only cool airstream is welcome – while blow-drying try lifting the roots using a brush, diffuser or your fingers. Never use rich silicone-based masks, leave-in conditioners or cream styling primers if your hair is thick and easily weighed down. For styling volume-deprived hair, choose a product which ensures long-lasting freshness, lifts the roots and adds manageability. Make sure it is a nourishing formula which protects the hair and doesn't build up.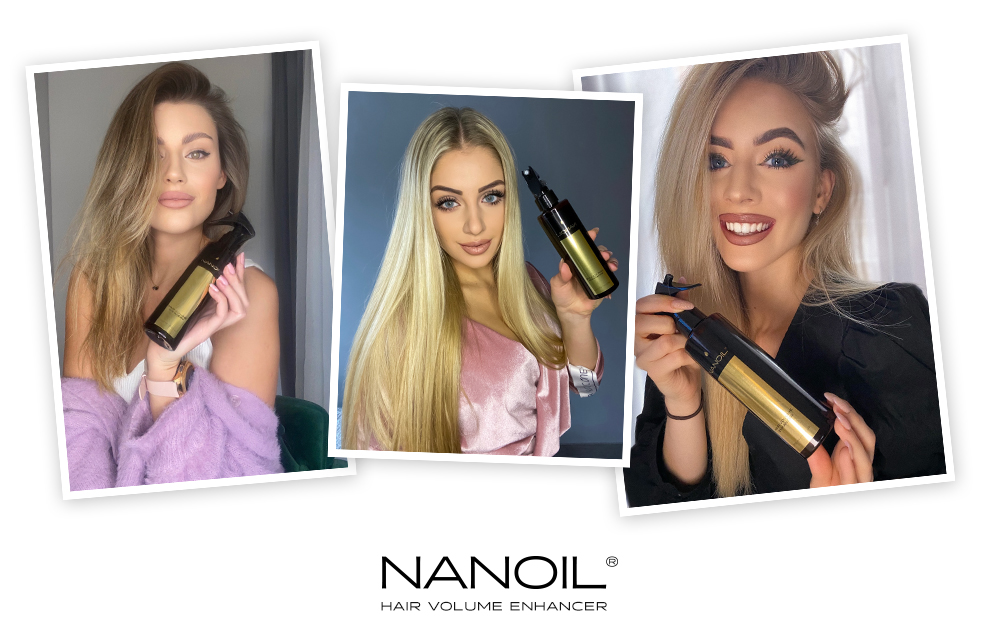 Nanoil Hair Volume Enhancer – lightweight but highly effective
Such effects can be achieved with Nanoil Hair Volume Enhancer. It's recommended for all hair types, and remedies thick, heavy, flat hair. A professional product which combines nourishing, styling and volume-heightening properties.
The light formula is based on ingredients which aim to lift the roots, heighten hair volume and make your styling routine easier. Hairstylists love it for creating long-lasting freshness and volume, which is thanks to components – they don't leave hair dry, stiff or overloaded.
Added active ingredients such as panthenol, keratin and wheat proteins work inside the hair and on its surface. The nourishing properties will be appreciated by those who want to keep the shape and resilience of hair without stiffness typical of hairsprays. Additionally, the spray has a protective effect because it builds a barrier against unfavorable factors such as the sunlight, minus temperatures or humidity.

Nanoil Hair Volume Enhancer for quick styling routine
The volume-heightening spray from Nanoil is a life-saver for all those who want long-lasting effects and a quick styling routine. You can use it on wet hair after shampooing or on dry hair before blow-drying, curling or putting rollers on. No matter which hairstyle you pick, the added keratin proteins will make your hair appear thicker and look fluffy. Because it doesn't weigh hair down, your locks will stay fresh all day. Thanks to lifted roots, the scalp will keep feeling clean longer.
Nanoil found a way to create amazing volume without the unnatural stiffness. Nanoil Hair Volume Enhancer is a great choice for anyone who wants simple solutions, efficiency and spectacular, long-lasting effects.
You can find more info about the formula and benefits of Nanoil Hair Volume Enhancer, and Nanoil's other styling hair products on www.nanoil.co.uk