Nanobrow Eyebrow Powder Kit is a perfect colour duet of two soft brow powders and a satin highlighter. The intensely-pigmented shades create a three-dimensional effect of fluffy and full eyebrow arches. Nanobrow Eyebrow Powder Kit includes everything you need for your everyday and occasional brow makeup.
What does Nanobrow Eyebrow Powder Kit consist of?
The set includes:
A lighter shade
A darker shade
A highlighter
A double-sided brush with a sponge
A powder box
The palette is available in 3 colour versions:
Light – for light and dark blondes
Medium – for redheads and those with brown hair
Dark – for very dark or black hair
Nanobrow Eyebrow Powder Kit – hot or not?
HOT! Like brow makeup done with powders? This set is a perfect option for you! With the Nanobrow kit, you will enhance your brows and give them the desired shape. The satin, soft shades allow you to create perfect makeup with the possibility to layer the colour intensity. Ideally-composed shade duet ensures an eye-catching, smooth 'ombre' transition on your brows. The product is easy to apply and it delivers a flawless effect for the day. The brow powders are smudge-proof so they will stay in place for up to several hours – no need to worry about touch-ups. The silky-smooth highlighter with naturally reflective particles can be applied under the eyebrow arch to enhance and optically lift this area. The subtle glow ensures the effect of a smooth surface and emphasized eyebrows.
Brow makeup with Nanobrow – how should it be done?
In order to do your brow makeup, you will need naturally reflective particles, a flat brush with a sponge which comes with the set, a spoolie (i.e. from a dry mascara) and a brow gel (optional).
Brush through your brows using a spoolie to shape them correctly. Dab a small amount of a darker shade onto a brush and, with short upward strokes, start filling in your brows. It's best to begin the process where the eyebrow arch starts to form – this part can be accentuated more strongly. Keep in mind that the brow tails should be darker and sharp-ended. Use a lighter shade to colour the rest of your eyebrows and blend the outcome with a sponge (or brush it with a spoolie) to get rid of the excess product and connect the two colours. You can leave the front of the brow natural or draw a few additional strokes that will mimic real brow hairs. Enhance the lower eyebrow arch with the highlighter which will boost the effect of a lifted eye. For the purpose of a flawless look and certainty that the brows are locked in place all day long, apply a transparent or coloured brow gel.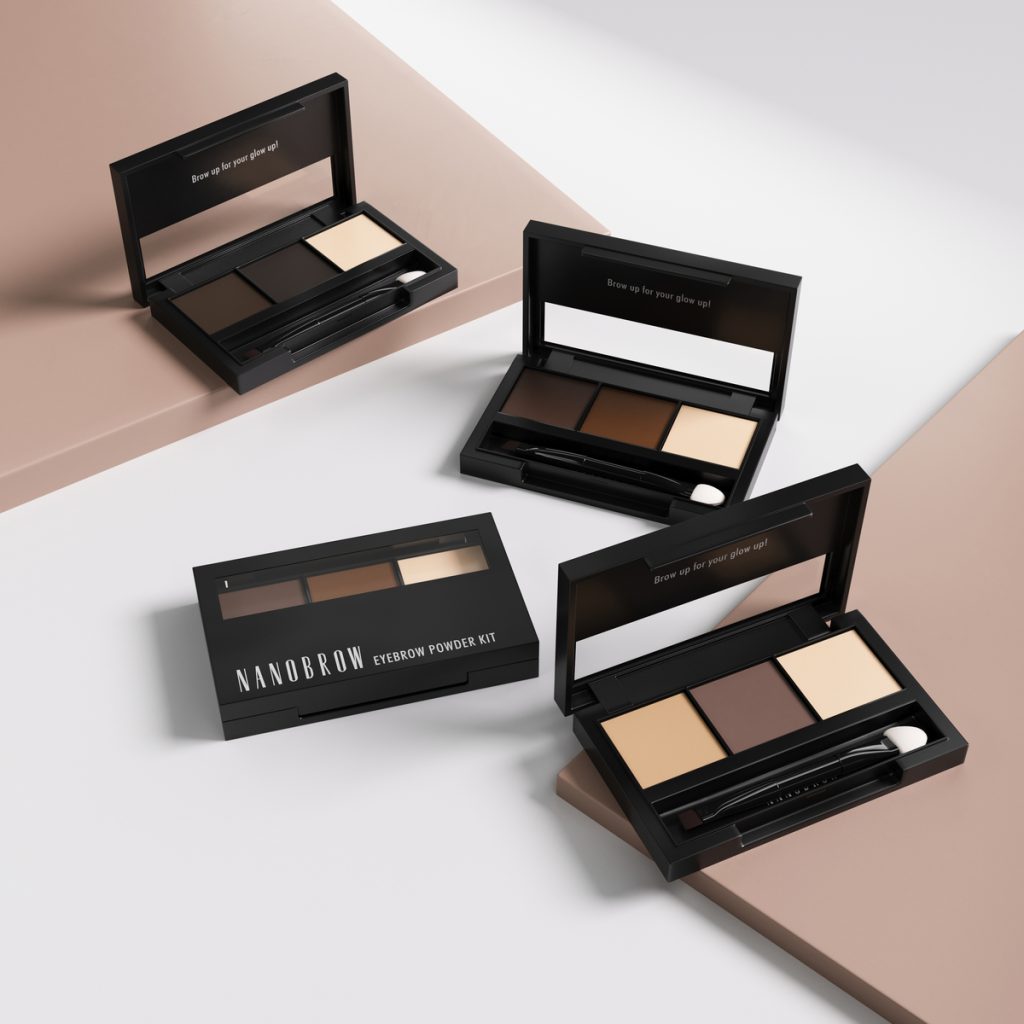 What you get in Nanobrow Eyebrow Powder Kit:
+ two complementary shades
+ a satin, soft formula ensuring no fallout
+ a precise slanted brush providing the desired control
+ a sponge for application or blending
+ highly-pigmented powders
+ a neutral highlighter with particles
+ long-wear smudge-free performance
+ three coloured versions
+ a handy powder box
Expressive, subtle or bold – it doesn't matter what kind of brow makeup you choose, go for the foolproof Nanobrow Eyebrow Powder Kit. You can find it at → nanobrow.co.uk