If you like beauty products, thanks to which your skin gets maximum care, you will be satisfied with the unique micellar product, which has already conquered the whole world. Although it sounds too good to be true, it's not an exaggeration: Nanobrow Micellar Makeup Remover is known and very popular around the world. Why is this micellar water for the face and eyes so phenomenal?
VOLUME – 200 ml / 6.8 fl oz
PRICE – very reasonable for the efficiency you get
WHERE TO BUY? – www.nanobrow.co.uk
MAIN INGREDIENTS – micelles, niacinamide, pomegranate extract, aloe vera extract
FOR WHOM – Nanobrow offers micellar water for all skin types
HOW TO USE – soak a cotton pad with the micellar water. Use it to gently cleanse the skin. To remove eye makeup, place the cotton pad on the eyelids and wait a moment for the makeup to dissolve.
NANOBROW MICELLAR MAKEUP REMOVER – DESCRIPTION
Nanobrow Micellar Makeup Remover contains only perfectly composed ingredients that are safe even for sensitive skin. What's more, its quality has been confirmed by professionals. This gentle makeup remover does not dry out the skin, cleanses it while leaving no greasy film, and intensively moisturizes the skin. It removes makeup, oils, excess sebum, dirt, dust and cosmetic residues quickly and accurately, while soothing irritation and preserving the natural balance of the skin. Micelles, tiny molecules, attract dirt like a magnet, and nutrients prevent transepidermal water loss (TEWL).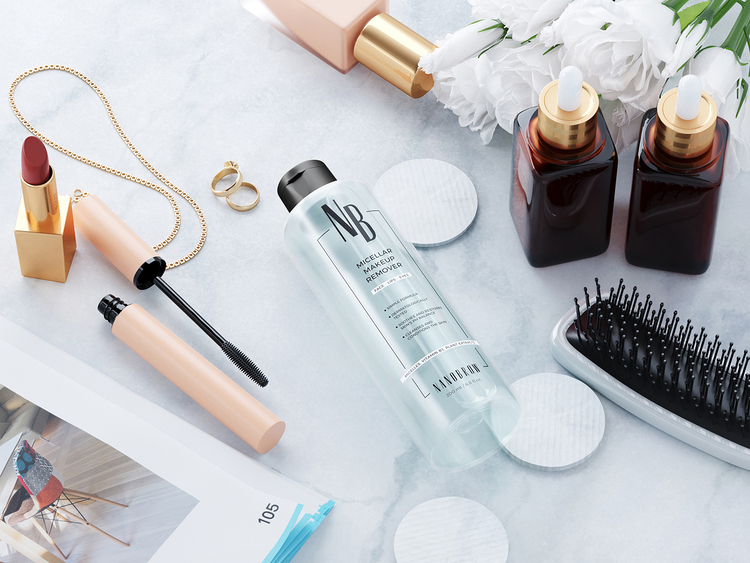 WONDERFUL COMPOSITION – THE SECRET OF NANOBROW MICELLAR MAKEUP REMOVER EFFECTIVENESS
When it comes to this makeup-removing product, its components are most important. See for yourself how the ingredients of Nanobrow's micellar water work on the skin:
Pomegranate extract – is rich in antioxidants that preserve the skin's firmness and give it more radiance. Extract of pomegranate stimulates collagen and elastin production to maintain the youthful appearance of the skin.
Niacinamide – is a derivative of vitamin B3, which strengthens the protective layer of the skin, soothes inflammation and redness, mattifies the skin, moisturizes and ensures the skin more vitality.
Aloe vera – regulates the pH of the skin, tones, refreshes, soothes redness and irritation, and has anti-inflammatory and antibacterial effects.
HOW DOES NANOBROW MICELLAR MAKEUP REMOVER WORK?
➕ removes even the waterproof makeup and cleanses the skin, frees it from dirt,
➕ nourishes, soothes and intensively moisturizes,
➕ prepares the skin for further stages of care,
➕ reduces the unpleasant feeling of tightness,
➕ provides the skin with a whole range of precious nutrients that improve its condition.
The Nanobrow Micellar Makeup Remover for face and eyes – Nanobrow Micellar Makeup Remover – is available on the website www.nanobrow.co.uk